The Chosen
Southern Cross Weighs in
Is orthodox Doctrine Lost?
Good Intentions / unorthodox Outcomes
The one thing left behind is the authentic Jesus.
A very sincere show with little truth.
Family Entertainment: A+, Acting: A++, Directing: A+, Sets: A+, Cinematography: A++, Streaming platform delivery: A+, Music: A++
Orthodox Christian messaging from the show and Dallas Jenkins, and the Jonathan Roumie (Playing Jesus): F
Reasons for the F are substantiated below extensively. The bottom line is this version of false religionism is why Christianity is seen as confusing. The Chosen advocates for sin, is pro unorthodox religions, and believes in ecumenicalism, which is unbiblical.
Recommendation: Do Not Watch if you are serious about sanctification to Christ.
Justin Peters and Pastor Gabriel Hughes
The Jesus Dallas loves is a false idol. Even so, are movies that change the words of Jesus and show images of Him unBiblical? Yes!
The Chosen has crossed the 10 Commandments line.
Justin Peters and Pastor Gabriel Hughes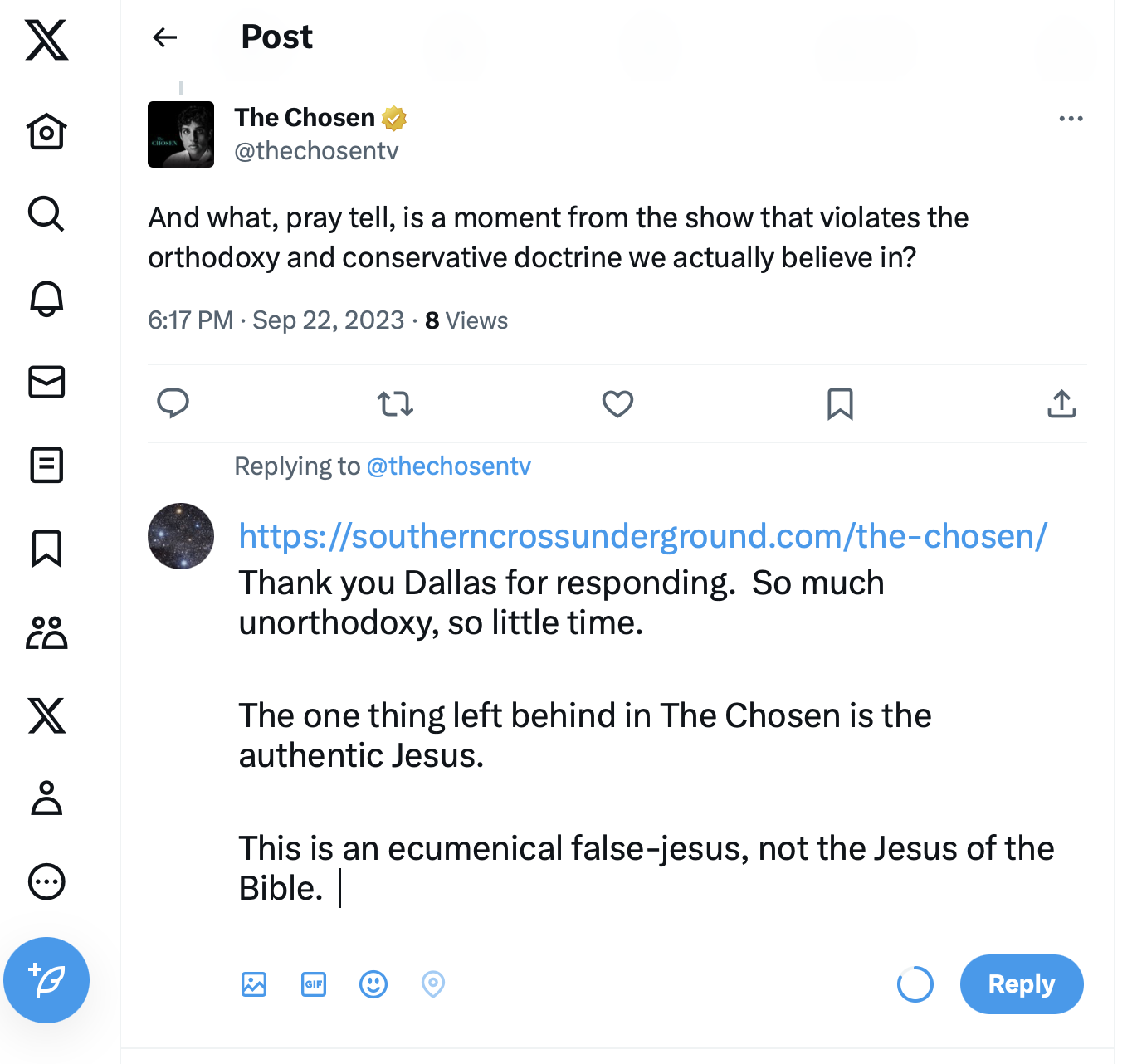 The Chosen says the Beatitudes is a roadmap to Jesus, said no verse ever. This is a Mormon works based description of the Beatitudes.
The Chosen shows scene of Nicodemus is indicative of every problem in the show. The Gospel is twisted, sin is diminished, and Jesus deity is lowered.
Dallas, this is way more than a "workplace policy" issue. It is not a right to wave sin around YOUR set. YOU allow it because you are an ecumenicalist, universalist, false teacher that believes people worshipping a false idol are brothers and sisters in Christ. What is left behind on the Chosen set is the authentic Jesus.
And the music behind The Chosen, well they are unorthodox too.
Even dialog in the Bible is changed.
The Gospel of Christ breaks it down.
Stay far away from anything Dallas produces. He has other projects he is associated with that have Mormon theology throughout.
The Mormon roots and financial benefactors of The Chosen.
Unorthodox and mystical beliefs confessed.