There was never a doubt
Secular culture has always been sinful – driven by satan
The culture fully embraces hell, and celebrates their future eternity. And Christians, what do they do? Sit on their collective thumbs. Wake up people.
1 Peter 5:8 – Be sober-minded; be watchful. Your adversary the devil prowls around like a roaring lion, seeking someone to devour.
Burning man, todays Pegan Festival to Satan
Burning man, todays Pegan Festival to Satan
The 2023 Barbie movie is a satanic dumpster fire.
Anti-Christian
Anti-Masculinity
Anti-Marriage
Anti-Family
A sinful train-wreck.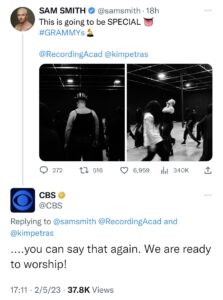 Sam Smith (Gender unidentified) performed a despicable satanic number replete with all imagery you can think of uplifting satan.
The secular media continues to teach us they are all about satan. CBS tweeted what is to the left. "Did CBS just admit it worships Satan?" the Media Research Center tweeted Monday. CBS deleted its tweet later in the day Monday.
The fact the tweet was deleted shows there is a remnant of America that holds to decency. What shall happen when that remnant is gone? Last time it was a flood. This time it will be fire.
At the Grammys, people were celebrating worship of a false God and Satan. Well one and the same, but they are ensnared.
Sponsored by Pfizer – who made billions on Covid sales. Now they thank Satan.
Christian Musicians that participated in Satan worship at the Grammys for fame and money, included:
Maverick City & Kirk Franklin
Erica Campbell
David Crowder
Chandler Moore
Ty Tribbett
Christopher Michael Stephens
In secular terms there is a stairway to heaven, highway to hell.
Richard Dawkins getting to live long enough to see what an atheist culture becomes. They are right in their own minds.
The United States of Sodom and Gomorrah